Automate Your LegalOps To-Do List
We recommend straightforward tactics to help you become more effective and efficient – a legal operations plan to thrive during and after the coronavirus.
---
These unprecedented events. This uncertain time. The new normal.
They are tired phrases by now, but the clichés ring true: We are working in a new reality. As we have discussed, Legal Departments now have three choices: They can simply survive. They can succumb to the stress and hassle and take a dive in morale, productivity and results. Or they can take this time – this uncertain, unprecedented time – to try to thrive.
The May 11 edition of PwC's COVID-19 CFO Pulse Survey asked our colleagues in the C-suite: what is it about the coronavirus crisis that could make their companies better long-term. Their answers: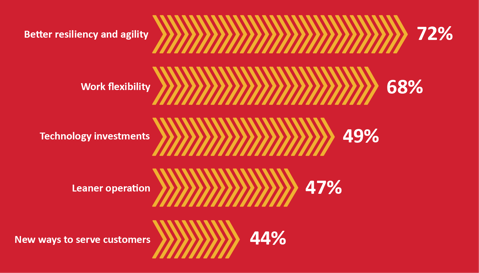 If you're looking to be a Legal Department that thrives, this could be a 'to-do list' of sorts. But how do you get started?
Xakia's Legal Operations Health Check can help - but only until June 30, 2020.
This (free!) online tool was designed to empower in-house lawyers to evaluate the health of their departments and plan operational improvements. The Legal Operations Health Check incorporates best practices from the Corporate Legal Operations Consortium and the Association of Corporate Counsel.
The survey takes 20-30 minutes to complete, and it works on your desktop or mobile device. It asks 100 quick questions spread over 10 primary categories including:
workflow management
technology tools
communications
financial management
data analytics
The tool works for Legal Departments of all sizes; it can evaluate legal operations for small teams to teams of thousands.
After completing the survey, you will receive a report which includes:
an overall health score, as well as scores for each category;
benchmarks for your Department against departments of similar size and departments in your industry; and

most helpful, recommended priorities and resources to help you focus on the areas that need the greatest attention.



We will not share your identifiable information, but together with Legal Operators, UpLevelOps, Ascertus, Norton Rose Fulbright, LawIT Group and InvestCEE, we will analyze the data and share Legal Department intelligence, trends and benchmarks from around the globe.
This tool is only available until June 30 2020. Try it today, and tomorrow you can start implementing smart, strategic change to your legal operations management.