Legal operations software to optimize the efficiency & impact of your in-house legal team
Xakia's intuitive and easy-to-use in house legal department software will immediately streamline your legal workflow, from request to completion.
Set up in minutes - not months - and see the improvements in your legal team's productivity today.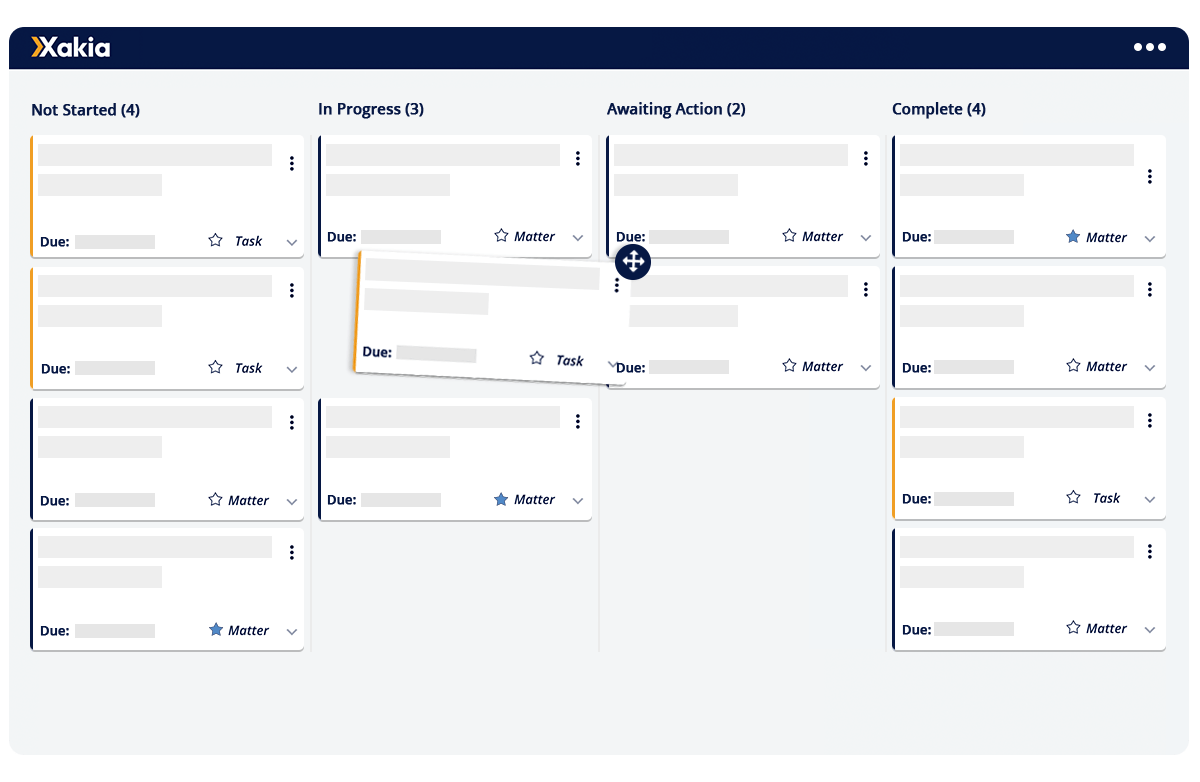 Six essential tools to streamline your legal workflow management
Struggling with the growing demands on in-house legal teams? We understand. This is why we have designed a powerful AND affordable in-house legal software to help you stay on top of growing workloads. Built specifically for in-house corporate Legal Departments, our cloud based legal matter management software can provide you with an experience like no other.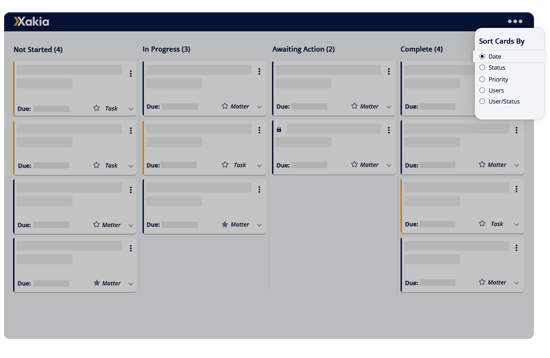 Instant visibility with a single source of truth
Legal Matter Management
Xakia brings together all your matter, document and contract management tools in a single interface. Simple, fast legal matter management software that removes the pain of spreadsheets to manage workloads, deadlines, and reporting.
Brief, triage, track, collaborate, search, store and report on all legal matters and documents with a centralized cloud based legal management software.
Built specifically for corporate in-house legal departments:
Get better visibility on all legal work
Improve team collaboration & productivity
Available in 7 languages
Find out more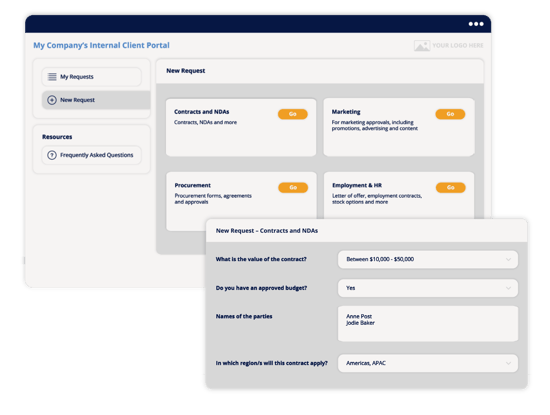 Streamline delivery and outcomes
Legal intake and triage
No more back and forth with multiple questions that delay projects and turnaround time. Our streamlined legal workflow management software ensures a better user experience for both the internal business client and the corporate legal department.
Automate document assembly with AutoDocs: streamline self-service delivery, or speed up the first document draft, you won't have to do busy work form-filling ever again!
Swiftly match resources with incoming legal requests
Improve collaboration with your business clients
Watch turnaround times shrink immediately
Find out more
A leading in-house legal department software, worldwide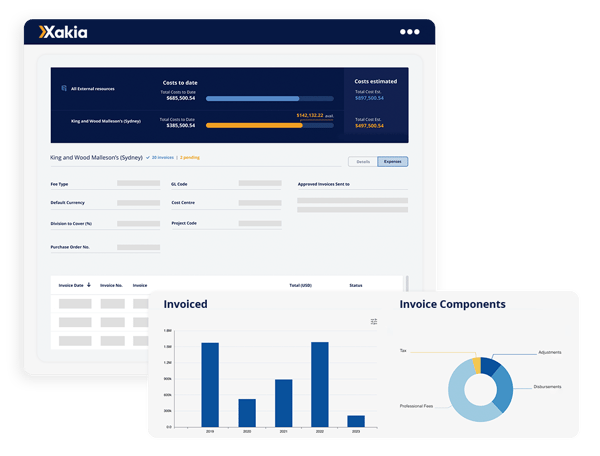 Gain budget control and full transparency
Legal spend & external counsel management
Do you battle with invoice approvals via email?
Stress less with Xakia's legal spend management tool. Receive invoices from your law firms and external counsel in a simple, clear process to review and respond, before auto-forwarding to your finance system.
Achieve a watertight understanding of where you spend money with our powerful, easy-to-implement legal spend management tool.
Set up invoice approval workflows in minutes
Automate the export or email of approved invoices
Have real-time visibility over your legal spend
Find out more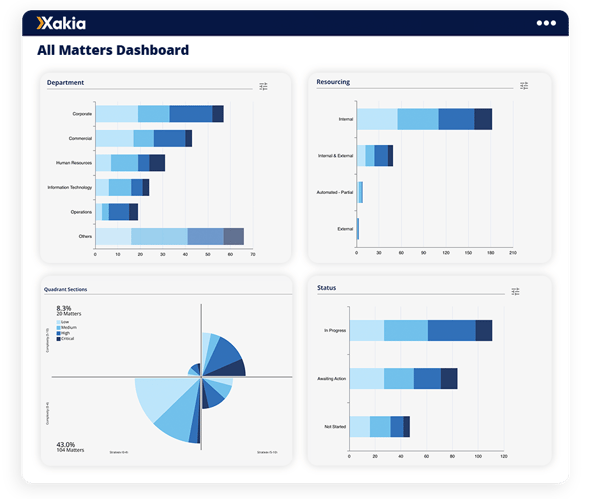 Empowerment through insights
Powerful in-house legal data analytics, right out-of-the-box
Say goodbye to spreadsheets and manual data entry!
Xakia's powerful reporting and legal data analytics software provides a quick, visual understanding of critical data points, such as volume or type of work, demand from within your business, distribution across your legal resources and much more.
Real-time legal analytics to manage your team's capacity and workload
Make informed, data-driven decisions with confidence
Share reports and keep stakeholders and your legal team in the loop with key insights and trends
Find out more
This could be the start of something great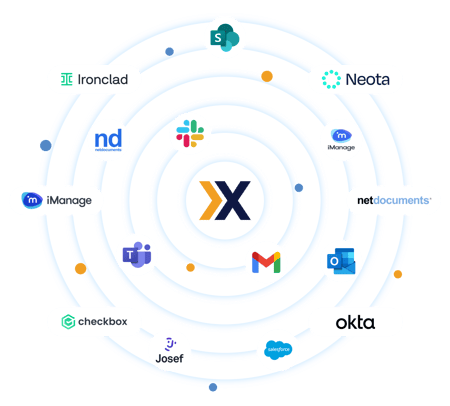 We play nice with other LegalTech products
Integrations
Our matter management software integrates with a plethora of best-in-breed business and legal technologies to bring all your tools into a single online legal hub.
Stop wasting time in your inbox or with spreadsheets – we can connect to your broader technology ecosystem to make life easier for you.
Customers around the globe who trust and love Xakia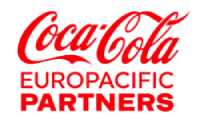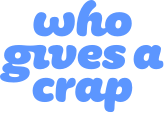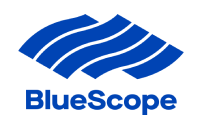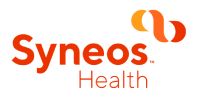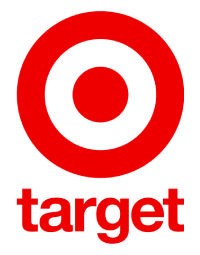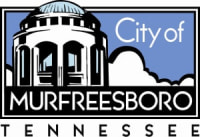 Try Xakia's in-house legal matter management software today