In house legal matter management software
Xakia provides your in-house Legal Department with a cloud based legal management software that tracks all your matters in one clear, central location.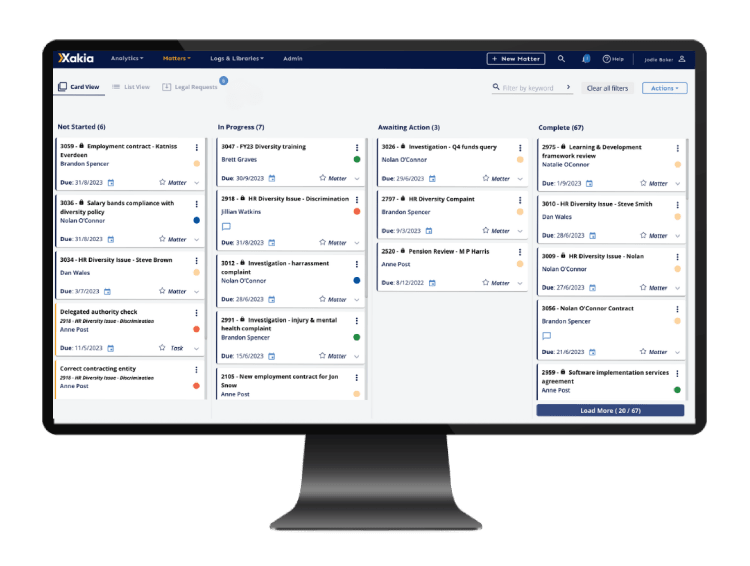 The best in-house matter management starts with visibility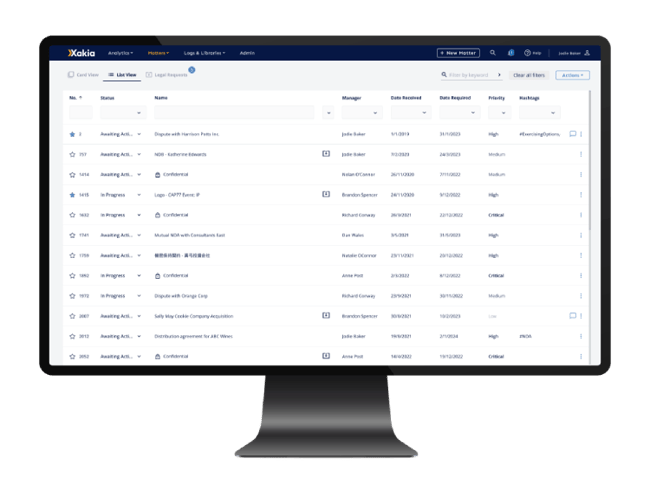 A central source of truth for all your legal matters
Frustrated by a lack of visibility across your in-house legal team? Don't have a single, central source of truth about your drowning team's workload? Want to systemize and automate, but don't know where to start?
You are not alone - this is a common pain point amongst in-house Legal Departments. It seems so obvious, but remains elusive for many teams.
You don't need to climb Mount Everest to solve this problem. You just need a simple, single source of truth.
You need matter management specifically designed for corporate Legal Departments.
That's where Xakia comes in.
Essentials of matter management software for legal departments
Keep it simple. What does your Legal Department need to know from its matter management software?
What is the work being done?
Who is it for?
Who is working on it?
Priority?
What is the strategic impact?
Key tasks and deadlines?
Even with this very simple list, your legal team will be breathing easier immediately with Xakia's cloud based legal management software.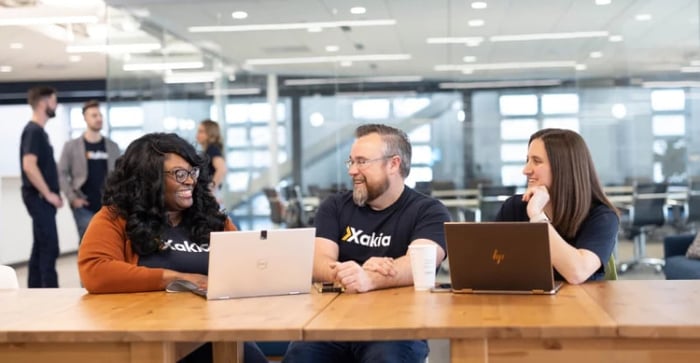 The best matter management software, worldwide
Take a quick tour of our matter management solution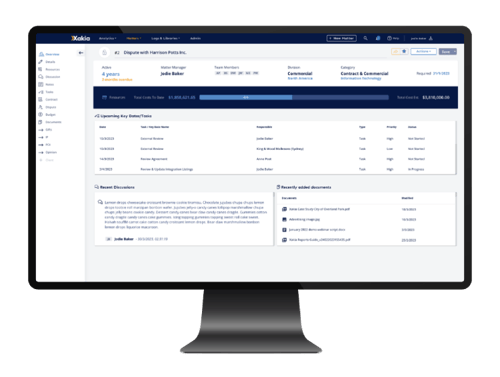 Watch our 2 minute video today
Prioritize for maximum impact
Doing the right thing is far more important than doing lots of things.
If you want your legal team to work smarter, the first step is to understand your work profile and prioritize to focus on strategic initiatives with impact.
Xakia's legal matter management system will ensure that you:
Feel in control of your workload
Can prioritize, delegate or dismiss work quickly
Can move work around the team (or external resources) for maximum output aligned with capability and capacity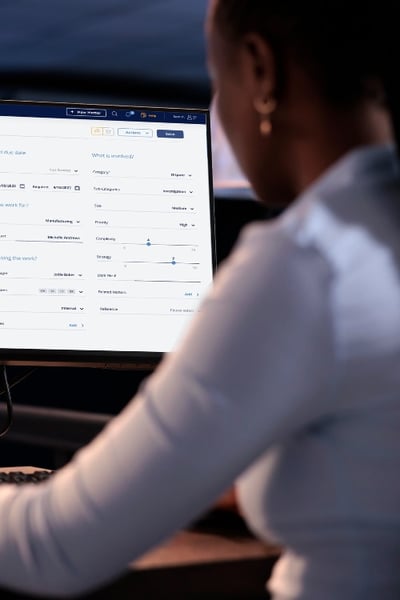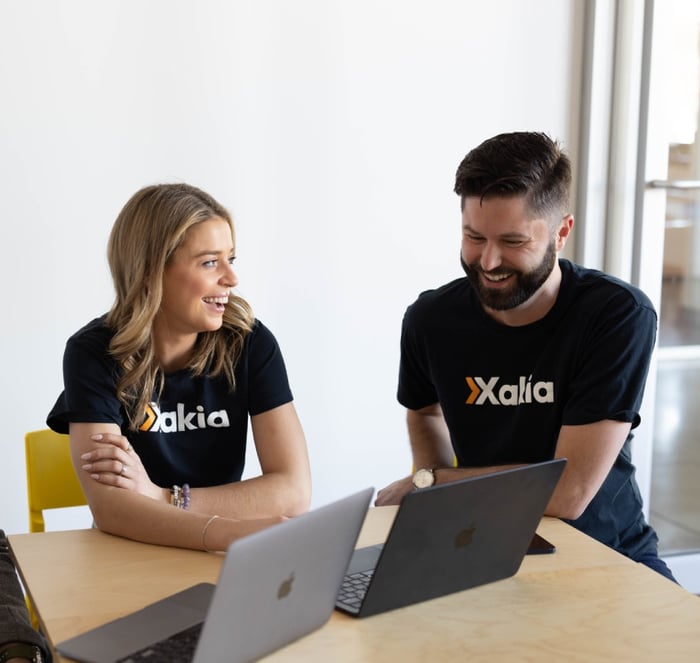 Nothing falls through the cracks with a matter management solution
You're putting out fires all day long, and the embers just keep burning.
Your team is exhausted and you worry deadlines will be missed, a key legal team member will be away (or worse, leave altogether!) and you won't know where or how to track critical legal information.
A legal matter management system is critical for feeling in control, and for organizational risk mitigation. It will bring your collective legal team blood pressure down and ensure:
You're not searching for information endlessly or fruitlessly
Deadlines, key dates and tasks are tracked easily
You have a clear, central source of truth
Choose a better way to work and say goodbye to spreadsheets!
Work in your style - list or agile
Seeing through the 'noise' to remain in control of your workload is the goal.
Being able to track all your legal matters in one secure, searchable and central location requires a user friendly in house legal matter management software that operates in a style to suit YOUR needs, to drive productivity and improve collaboration.
Xakia's matter management software for corporate Legal Departments allows for:
Rapid and/or automated matter creation
A simple list view OR agile for Legal Departments who work in a card view to drag & drop matters quickly through a legal workflow
Automated updates to keep team members informed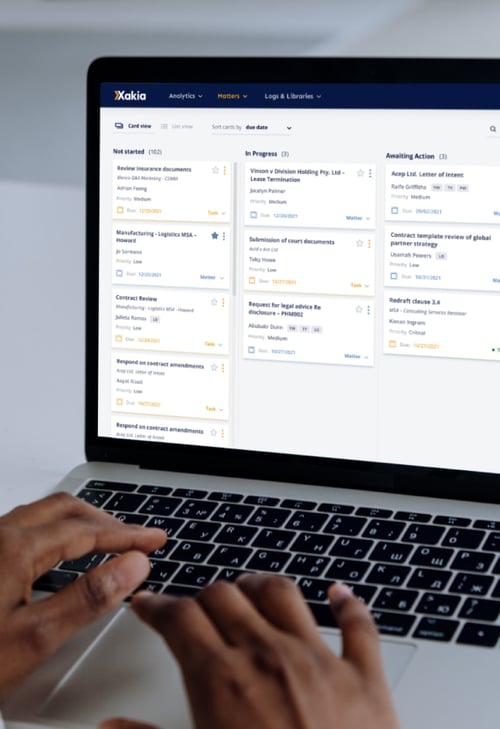 Other essential legal operations tools
Matter management and visibility are central to your success. The very best matter management software incorporates these legal operations tools too.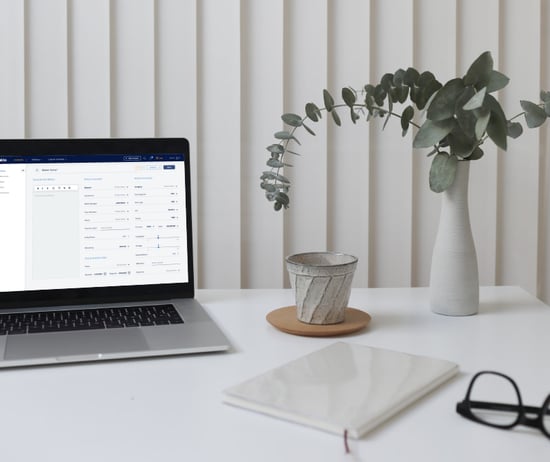 Matter management tools and legal documents go hand in glove
Whether you want a document management solution within your legal operations software, or already use SharePoint, G-Suite, NetDocuments or iManage, Xakia provides a range of easy document solutions to:
Connect legal matters and documents seamlessly
Search, preview and work with key documents
Receive documents from clients and store within your legal matter in seconds

"Xakia is very easy to use, the reporting functionality is more sophisticated than other offerings and it simplifies the management of your own matters as well as your team's matters. I would highly recommend Xakia as a matter management solution."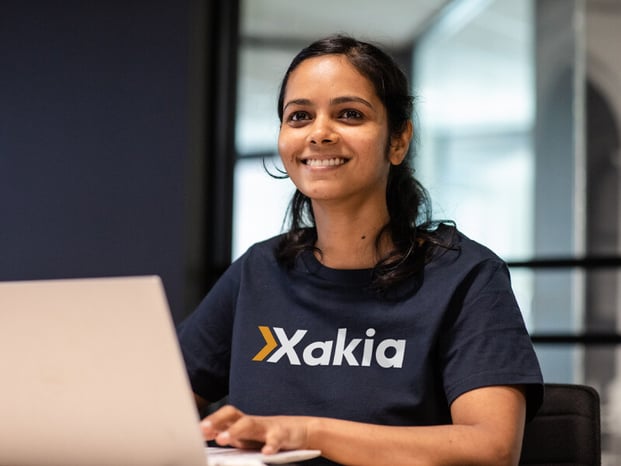 No more spreadsheets! Contract management made easy
Do away with spreadsheets and track key contract information in a structured, intentional manner that puts your legal team in control. Xakia's Contract Log includes:
Key clauses, jurisdiction, value and other metadata
Key contract dates and reminders
Link to parties, documents and matters
Real-time interactive dashboard
Manage disputes without the stress
Capture information about each dispute to fully manage your risk profile for informed decision making. Xakia's Dispute Log includes:
Class action, limitation periods, parties
Key financial information including claim amounts, at risk and insurance coverage
Proceeding information (multi-stage)
Full analytics and reporting
Recognize patterns in your dispute data with our real-time interactive dashboard, so you can proactively manage your organization's risk profile.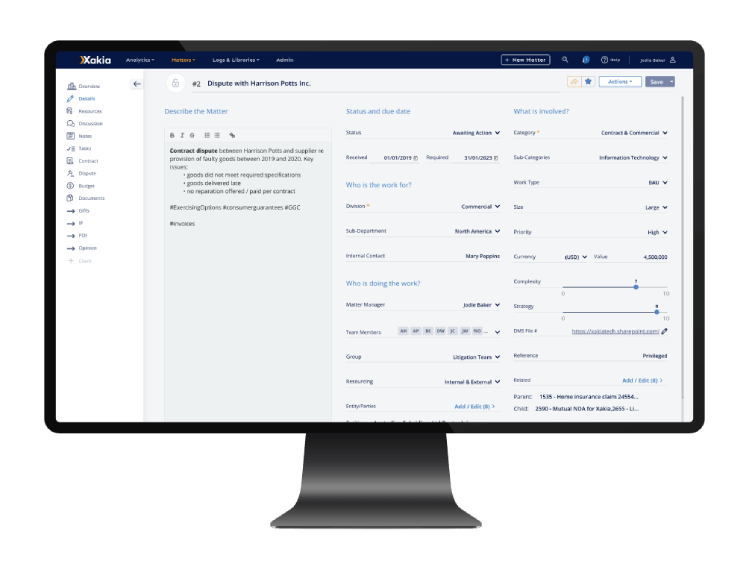 Take Xakia's matter management software for a test drive today
Explore our legal matter management resources
Some commonly asked questions about our legal matter management system
What makes Xakia different to other enterprise legal management software?
Xakia is a cloud based legal management software, accessible anywhere, any time. Xakia was built with a pure focus on legal in-house needs. We believe that all in-house legal teams, regardless of size and location, should have access to simple and cost-effective matter management tools that can help them streamline and automate their legal operations.
We're proud to have been named as one of the 19 Representative Vendors listed in the 2021 Gartner® Market Guide for Corporate Legal Matter Management, a 2022 Legal Technology Trailblazer by The National Law Journal and named as an Excellence Awardee in the Legal Service Provider of the Year category for the Australasian Law Awards 2022.
To learn more about our legal management software, get in touch with the team today for a demo.
How much does the Xakia legal matter management system cost?
How secure is my data?
We take information security seriously. Xakia is certified as compliant with ISO/IEC 27001:2013. You can learn more about our security here or get in touch to request a copy of our Information Security Pack.
Does your legal matter software cater for different languages?
Yes! Our enterprise legal management software is the only multi-lingual platform in the market configurable in English, Japanese, Spanish, French, Danish, Dutch, and Portuguese (Brazil).
Can I integrate the Xakia in house legal matter management software with other tools I currently use?
Yes! We have out-of-the-box integrations with:
We also offer integrations with:
Save time with single sign-on:
Azure Active Directory
Okta
ADFS
Xakia has an open API so you can integrate our cloud based legal management software with your other existing tools.
You can learn more about our LegalTech integrations here, or get in touch with the team if you'd like to learn more or to discuss any other LegalTech integrations you may require.
What should I look for when evaluating a matter management system?
Why do I need a modern matter management system?
Good question! A modern matter management system can help your Legal Department keep track of all matters, collaborate with colleagues and communicate with internal clients without the stress.
Download our Modern Matter Management eBook to learn the signs to upgrade, key features to evaluate and how to implement and evaluate ROI on a modern matter management solution.
Trusted by in-house legal teams of all sizes, worldwide