Legal analytics software to help you make informed decisions
Out-of-the-box and ready to use, these beautiful, interactive legal dashboards and reports will empower your in-house Legal Department to make effective and efficient resourcing decisions from day 1.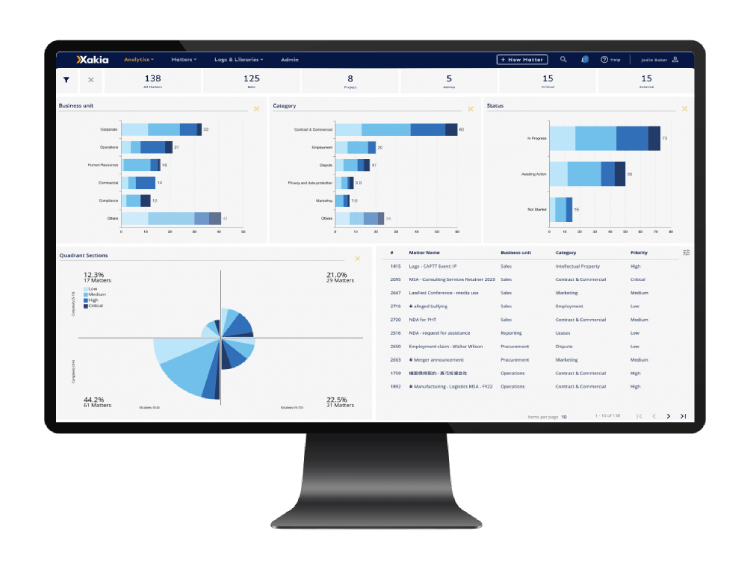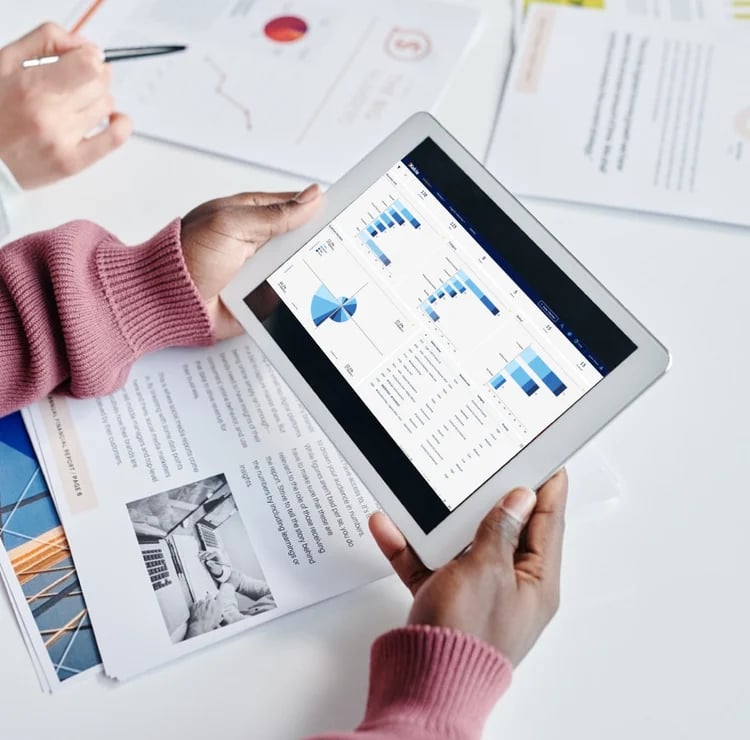 Why is legal data important for corporate Legal Departments?
The most important benefits of legal data analytics can be summarized as knowing:

The work that your legal team does
Who you do the work for
How you are resourcing the work
How quickly the work is being delivered
The resource intensity of the work
How much it costs you
In order to make informed decisions about:
Which work to prioritize
How to resource work effectively
How to resource work efficiently
How to manage your legal spend
Get critical Legal Department insights - in real time
Our out-of-the-box legal dashboards have been built by the best legal data analysts and visualization specialists in the industry so that you don't have to wrangle data. And yet you have complete flexibility to configure and drill down to the data you need in a beautiful, intuitive interface.
Xakia's cloud based legal software provides you with real-time legal dashboards so you can:
Understand current (and past) work profile
Know your most demanding business units
Spot capacity gaps
Understand legal spend - by firm, business unit, matter and more
Visualize work volume over time, for seasonality and cyclicality
Identify complexity and strategic value of work
And much, much more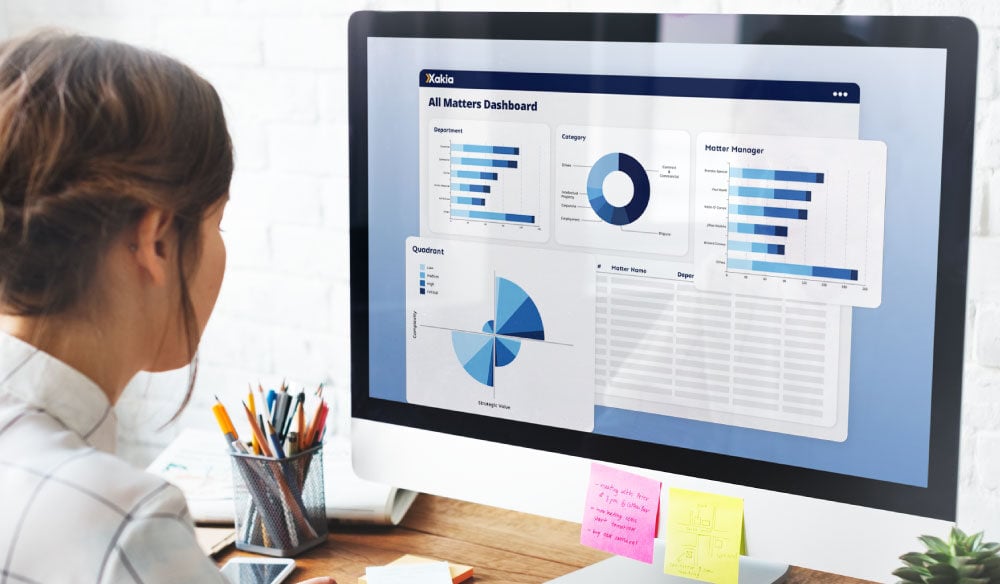 Take a quick tour of Xakia's legal data analytics software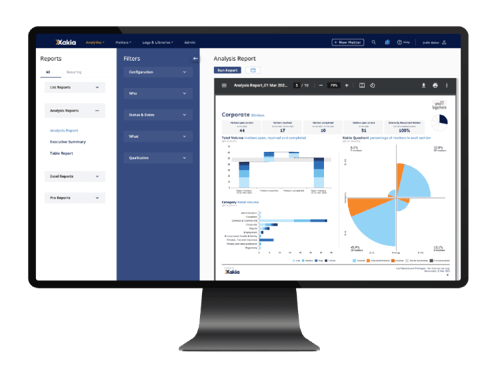 Watch the 2 minute video to see it in action
Improve your in-house Legal Department communication
C-Suite, Board, Business Unit or your corporate Legal Department - whoever your audience, you want to report legal team activity clearly, easily and with confidence.
Nobody wants a laundry list of work! Your in-house legal team is fabulous, and they know how to do their job - a list doesn't convey that.
Your stakeholders want your legal reports to communicate:
The strategic and/or monetary value your legal team contributed
How quickly the Legal Department has turned work around
That you have control of legal spend
Major changes in legal work profile
Key risks in the organization
Automate your communication and impress your stakeholders with Xakia's beautiful and informative Legal Department reports. They expect it.
Quarterly reporting used to take over a week. Now it takes just one day.
Tammy Fisher, Legal Support Administrator
The City of Overland Park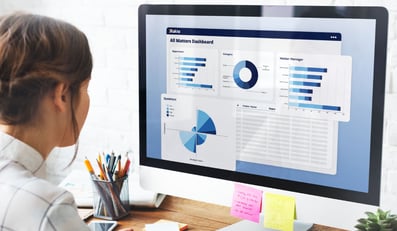 See our powerful legal analytics software in action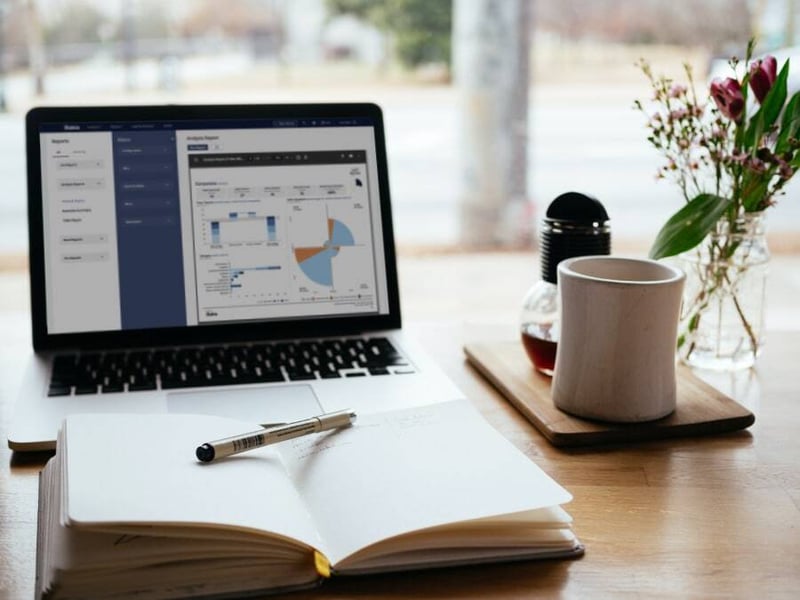 Best-in-class Legal Department reporting
Xakia's comprehensive in-house legal reports are designed and ready for ALL your stakeholders - on demand.

With Xakia's legal analytics software, you can:
Communicate legal team value immediately
Quickly update your stakeholders in minutes
Use data and charts to understand your legal team demands
Measure your legal spend against budget
Configure reports on 20+ million combinations of data
Have immediate understanding of your work profile
Impress your C-Suite, Board, peers and team with beautiful reports
Legal data analytics made easy
You didn't go to law school to become a data analyst. Nor did the rest of your in-house legal team.
Yet access to clear and reliable legal analytics tools is critical to running a healthy Legal Department, with your finger on the pulse of legal team demand, capacity and budget.
So how do you marry these together?
Xakia's legal operations software builds data collection into the process of legal matter management, so that it is seamless for your legal team. They gain the benefits of legal workflow and visibility, without the need for endless data-entry to save time and drive meaningful legal data analytics.
The output? Powerful, interactive legal dashboards and reports right out-of-the-box, that you can configure or drill down as required.
Too easy!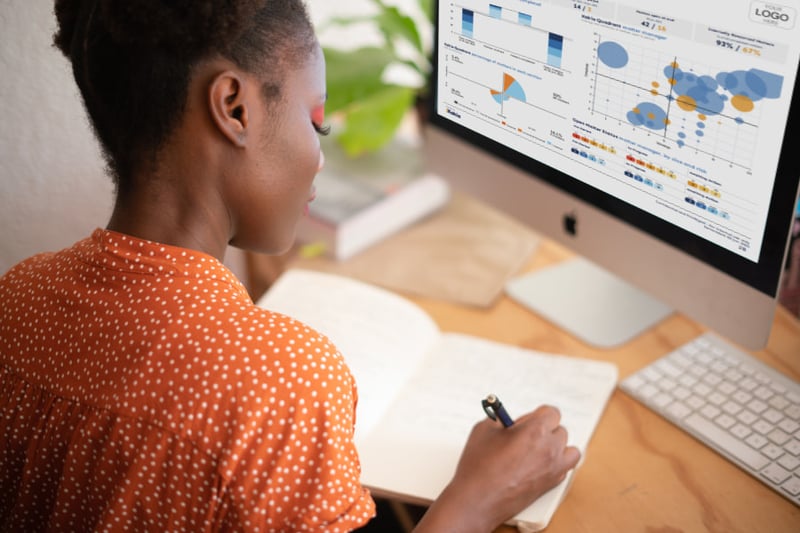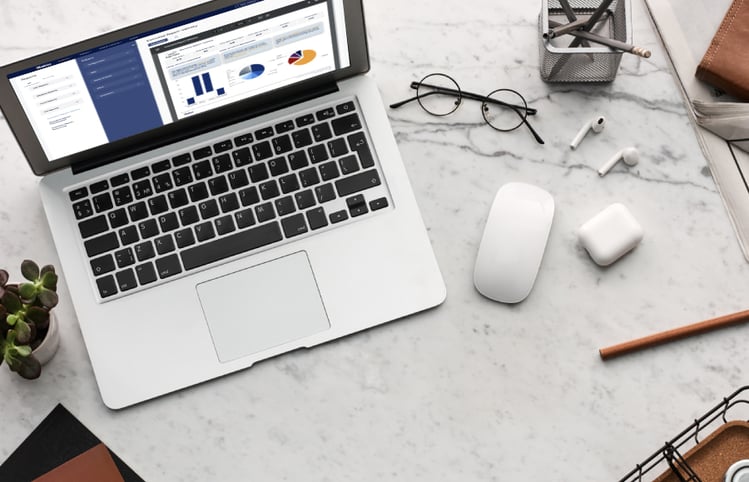 Pro Reports - all the smarts, with none of the work
At the Professional subscription tier, you can access next level reporting. These reports will focus on work of strategic importance, with automated insights that tell a story about your legal work for:
On-time delivery of work with the greatest impact
Prioritization of the work that has greatest impact
Resourcing of the work that has the greatest impact
Add your own commentary to the report to generate a complete, powerful and informative report for all your stakeholders.
Making accurate, data-informed decisions about your resourcing and work prioritization has never been easier.
Available on the Professional tier, speak to the team today for a demo.
Avoid legal data pitfalls with Xakia's legal analytics software
Running legal dashboards and analytics for your in-house legal team is essential for achieving greater productivity (the "do more with less" challenge!). Nonetheless, there are legal data traps you need to avoid:
Dirty data!
Too detailed or not too detailed - that is the question
Data for data sake
Know your audience
It is critical to strike the balance between legal dashboards that tell a story - or the the story that you need to tell, those that are so high level they tell no story at all, or so detailed that you get lost in the weeds.
Our legal data analytics specialists, teaming up with your Customer Success Manager, have got you covered. Our Legal Dashboards and Reports included with all subscription levels will ensure that you have the information you need to power your Legal Department productivity, without burying you in data you simply don't trust or understand.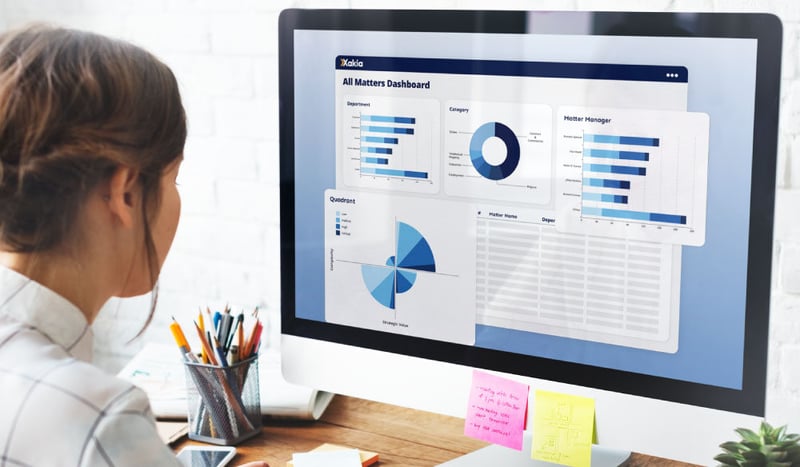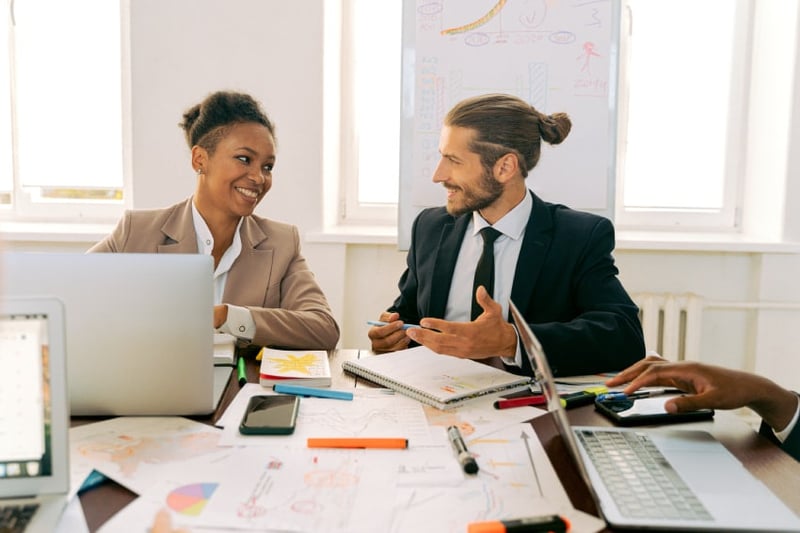 Empowerment through legal data-driven insights
Running a great Legal Department means making clear, actionable decisions about priorities and resourcing. Doing so with hard, reliable evidence is essential.
Whether you need to deep dive into detail, or stay high level, Xakia's real-time legal analytics tools enables you to effectively manage your team's capacity, budget and clearly communicate with your clients.
Data is presented in easy-to-read dashboards, enabling you to prioritize mission-critical projects and identify process efficiencies.
Save time and make informed, data-driven decisions without spreadsheets - Xakia's legal matter management software automates the entire data collection, crunching, and visualization process for you without adding additional time burdens.

"Xakia provides us with real time visibility on the workload and competing priorities of our legal department.
We have found it to be a critical tool for resource allocation purposes and optimizing team efficiencies...Xakia enables us to numerically substantiate how the legal team actively contributes towards the company's strategic goals and key metrics."
GM Corporate Legal

Benefits of Xakia's legal analytics software
Instant access to insights – no background in math, science or engineering required
Provide quick, visual understanding of critical Legal Department data points
Be client-centric and prioritize accordingly
Easily identify and fix efficiency gaps
Report to key stakeholders with confidence
Make decisions informed by solid, real-time data and analytics
Manage and track success of specific initiatives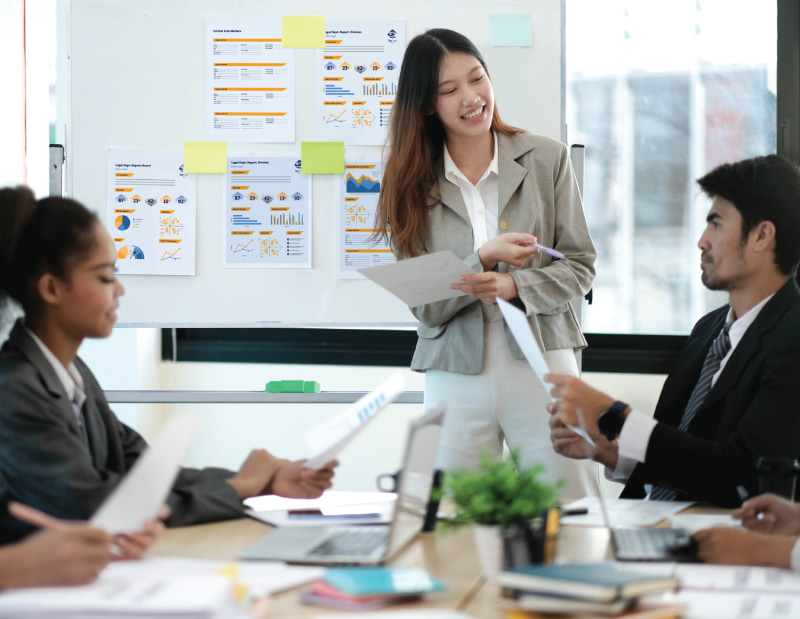 Your one-stop-shop for legal matter management
All the essential legal operations tools you need in one cloud based legal software. No more spreadsheets or Post-It Notes!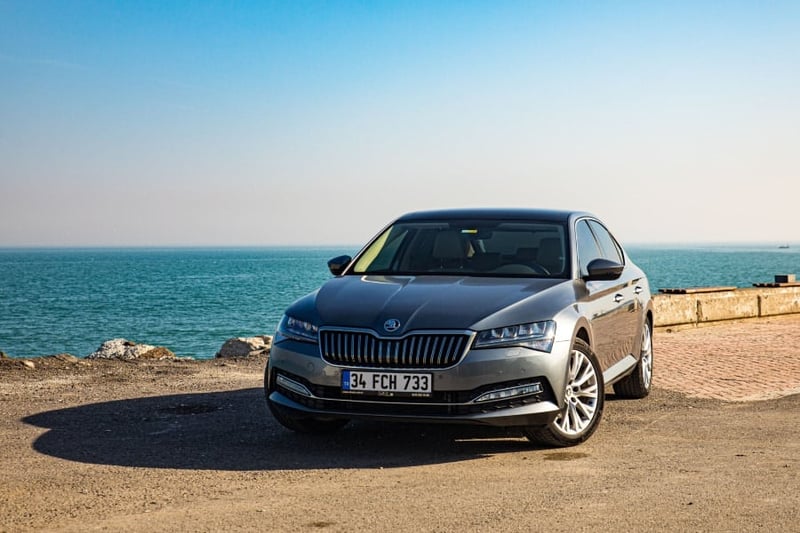 Regular legal reporting to management has become a breeze for Škoda Auto
"The reports and summaries we regularly export from Xakia are key to elevating our communication with business departments."

Jiří Pařík, Data Protection Manager
Škoda Auto
Take Xakia's legal operations software for a test drive
Explore our legal data analytics and reporting resources
Some commonly asked questions about our legal analytics software
Some of the customers who trust and love Xakia