Legal intake & triage for in-house legal teams
Simple to use for clients. Powerful for your legal team. No hidden costs.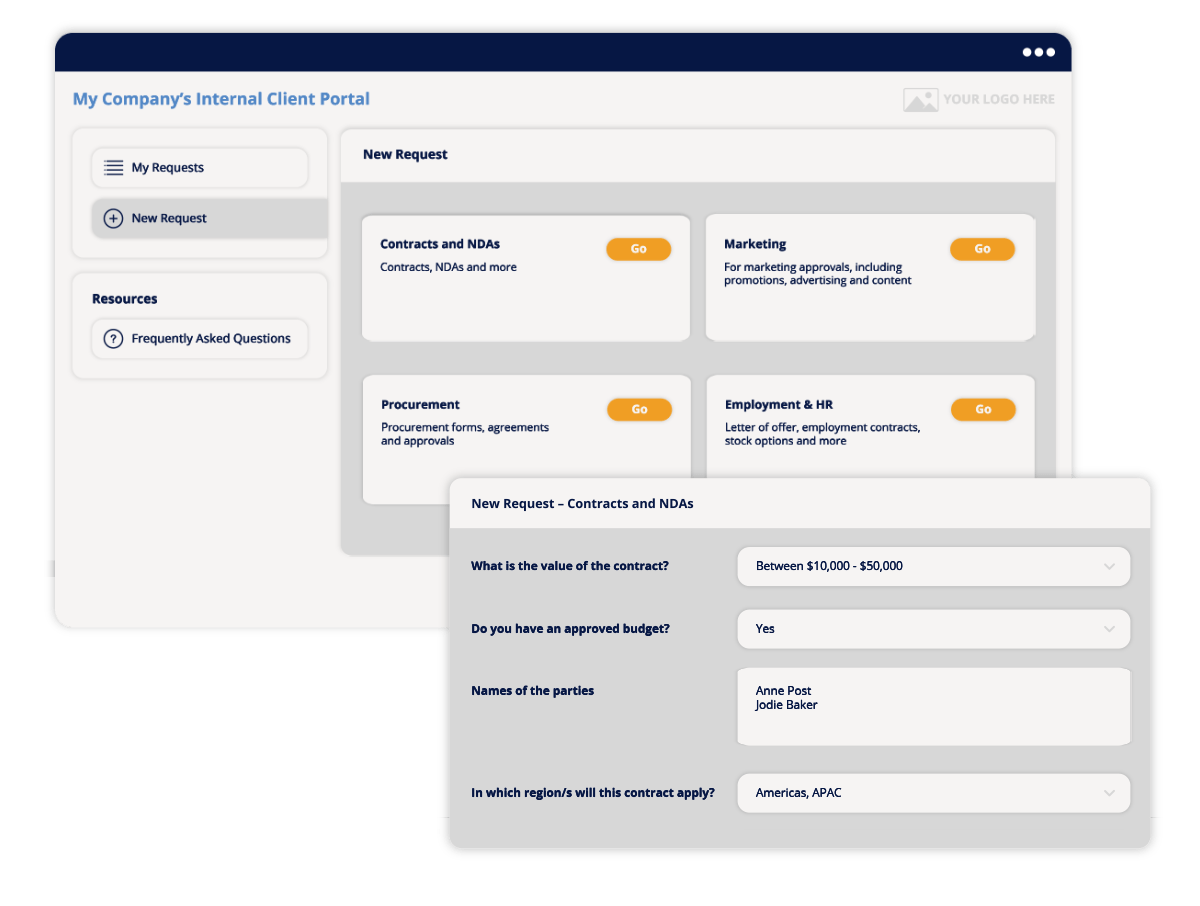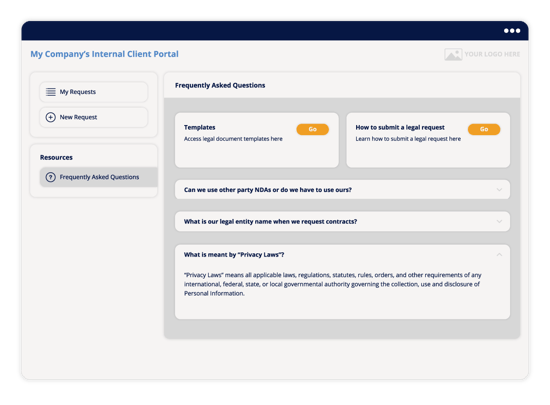 Legal intake essentials
Xakia's simple, powerful legal intake and triage system includes:
Simple request process. Set up simple workflows so that your clients can submit requests efficiently and your legal team can receive and resolve without fuss.
Automation and self-serve options. Automatically create documents or answer frequently asked questions.
Portal for collaboration. Share updates and documents between clients and legal team.
Analytics. Silently collect data to drive insights into client demand and delivery.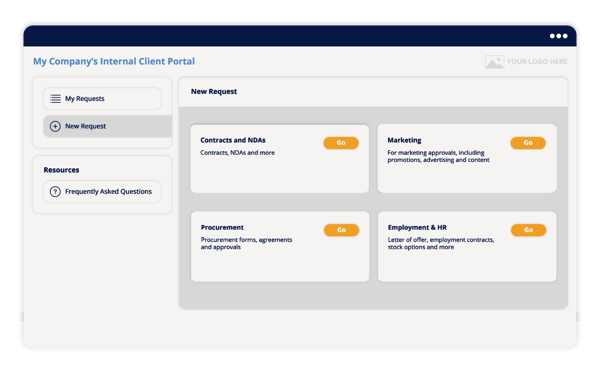 A better and faster experience
A legal intake system can be set up in minutes to instantly deliver a saner, smoother request process to your business clients.
Single front door for all legal requests
Customized legal intake workflows
Submission of legal requests is fast and smooth
The right information is captured to facilitate fast turnaround
Quick and simple assignment of requests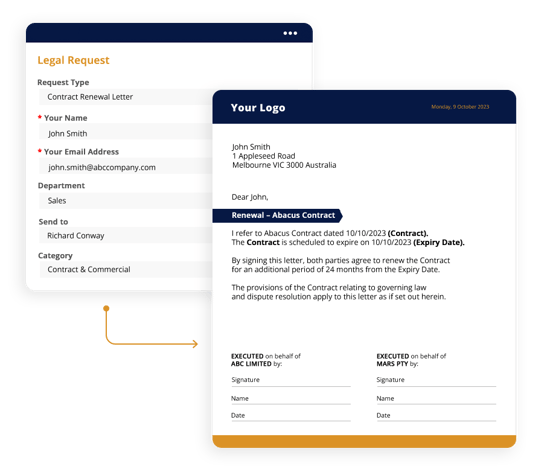 In-house legal self-service tools
A matter management software for corporate Legal Departments can facilitate business efficiency with business self-service.
Frequently Asked Questions
Empower your business partners to search and find answers to routine questions, saving you both time AND ensuring legal information is accurate.
Automatically generated documents - AutoDocs
The Legal Department is not a glorified word processor, and there is nothing worse than having your valuable legal team form filling to generate standard documents.
Xakia's Legal Intake & Triage software includes self-generating documents, with delivery routed to:
Your business users and/or
To the Legal Department for sign off
Learn about AutoDocs
Internal Client Portal
True business partners with transparency and collaboration
Collaboration between the corporate Legal Department and internal clients goes beyond receiving instructions and is made easy for your clients with our legal workflow management software.
Provide a single legal front door
Submit and track requests for updates, documents and delivery
Enable collaboration between legal team and internal clients
Empower self-service
Bonus: no hidden costs/charges
An unlimited number of internal business clients can be added to the Internal Client Portal.
There is no additional fee for internal business clients to use the Internal Client Portal.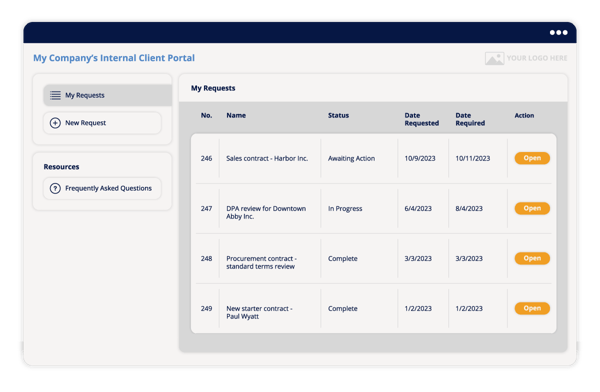 "Using Xakia's streamlined legal intake process and internal client portal have been so much more efficient for me."

Chuck Kable
Chief Legal Officer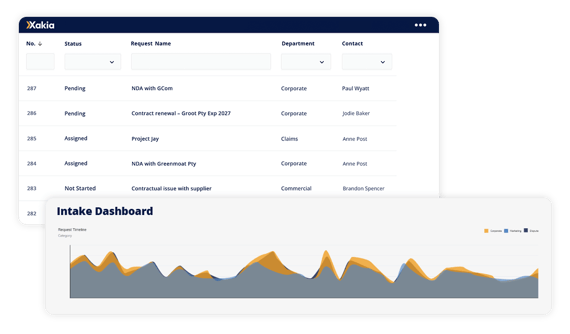 Legal intake data analytics and reports
The data gathered through the legal intake process is pure gold for identifying ways to improve Legal Department productivity.
With Xakia's legal analytics software, you can use out-of-the-box and highly configurable dashboards and reports to:
Understand business demand and identify changes
Monitor changes that may require resourcing adaptations
Interrogate legal requests to understand capability and capacity
Identify blockages in the legal workflow
Demonstrate the volume and type of work received and delivered
Demonstrate turnaround times and strategic value
See the Xakia legal intake & triage software in action
Legal Department operational efficiencies

Receive complete information the first time
No back-and-forth for clarification that delay projects and turnaround times.

One platform to receive legal requests
Receive legal requests in a structured, reliable and easy-to-read format.

Faster assignment of requests to the team
Match the legal request to capacity and capability and fast track legal work delivery.

Matter creation is seamless
Remove any duplication or manual updates, ensuring all information is tracked in a central legal matter software.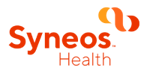 "When using Xakia, average days to completion [of legal requests] reduced by 73%."
Megan Isaacson
Legal Operations Manager
There is a better way with Xakia's legal intake software
Explore our legal intake resources
Some commonly asked questions about our legal intake & triage software
Some of the customers who trust and love Xakia