Legal spend management for in-house legal departments
Achieve a watertight understanding of your legal budget with our simple - but powerful - legal spend management tool. You'll simplify and speed up your invoice admin and approvals.
No spend caps. No vendor caps. No hidden costs.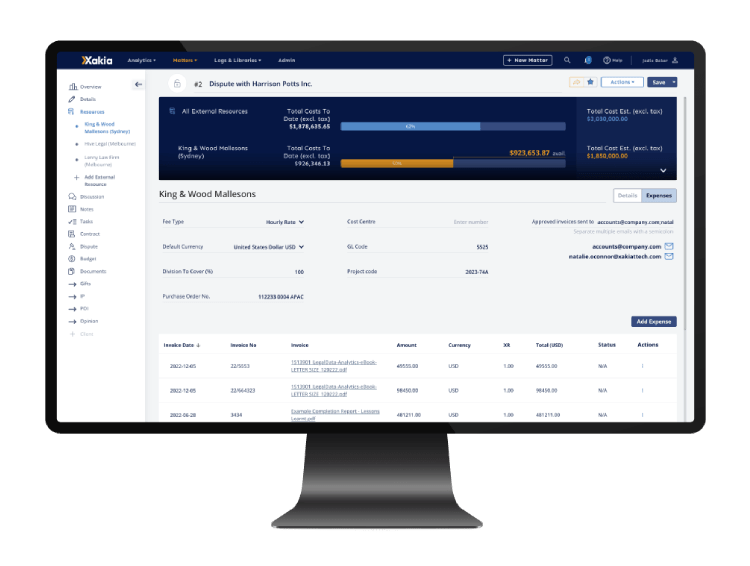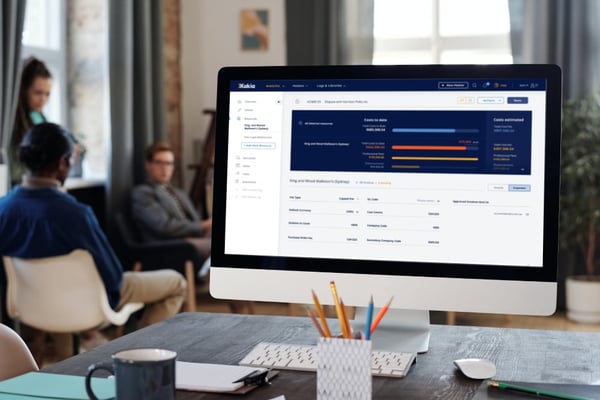 Avoid legal budget blowout with spend management software
Receiving, reviewing and approving invoices from law firms can be a headache. Achieving clear and complete data to inform your in-house legal team financial planning and reporting can also be challenging.
Xakia's simple legal expense and spend management software allows you to streamline your processes to eliminate guesswork, unwanted surprises and understand how your Legal Department is spending money.
Our legal spend and counsel management software helps clients to:
› Eliminate guesswork
› Reduce admin
› Enjoy real-time budget management
› Rate external resources on metrics that matter
› Gain increased visibility on spend with our robust reporting tools
Take a quick tour of our legal spend management software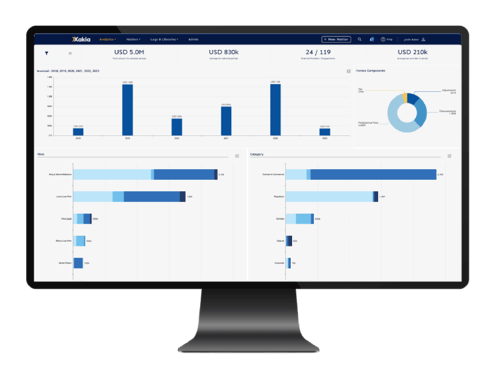 Watch the 2 minute video to see it in action
Benefits of Xakia's legal spend management software

Increased transparency
Keep track of all invoices submitted. Easily review, approve or reject invoices from one cloud based legal software.

Take back control
Keep track of costs to date vs estimated costs, forecast trends and make data-driven decisions with our legal reports.

One central location
Control and manage legal spend from one convenient cloud based legal matter management software - no spend caps!

Less admin
Reduce the time required to process invoices with configurable billing guidelines for external resource compliance.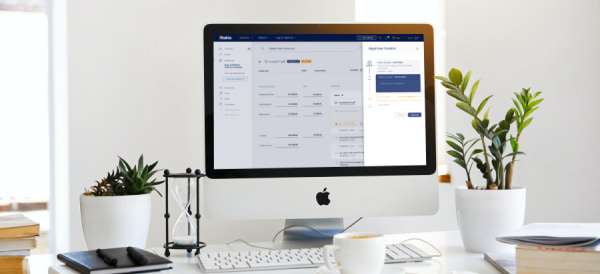 "Xakia has truly revolutionized the way the team work. It has replaced the limitations of Excel with a powerful, all-encompassing solution."
David Mather
Global Compliance Coordinator - Sales Finance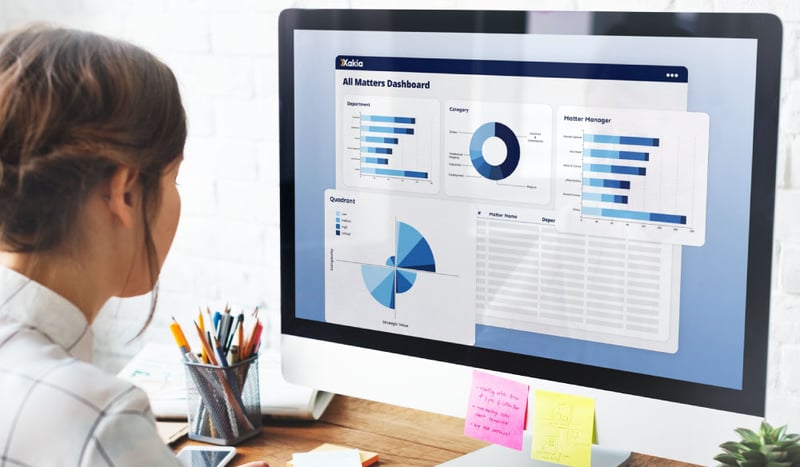 Simplify management of your in-house legal budget
Xakia's spend management solution allows corporate Legal Departments to manage spend and outside counsel from one centralized cloud based matter management software. In-house Legal Departments will enjoy improved transparency and easily manage and monitor spend from external resources.
Receive, review, approve and reject invoices from external counsel
Configure invoice approval workflows
Track legal matter estimates vs actual spend
Implement billing guidelines in minutes to ensure invoices comply with your requirements the first time
Real-time financial data in interactive dashboards and beautiful, detailed reports
Flexibility to analyze external spend by fee type, division, work category, law firm and more
Clear and powerful analytics to surface information about resource engagement and efficiency
Simplify admin of your external counsel invoices
Immediately reduce time wasted on invoice management across your team. Xakia's outside counsel management software solution helps streamline the receipt-to-payment process without months (or years) long implementation. Our outside counsel management tool removes clunky email exchanges and spreadsheet management so you can easily manage your invoice process:
Receive, review, approve and reject invoices from external counsel
Enforce delegated authority limits on invoice approvals
Configure multi-level invoice approval workflows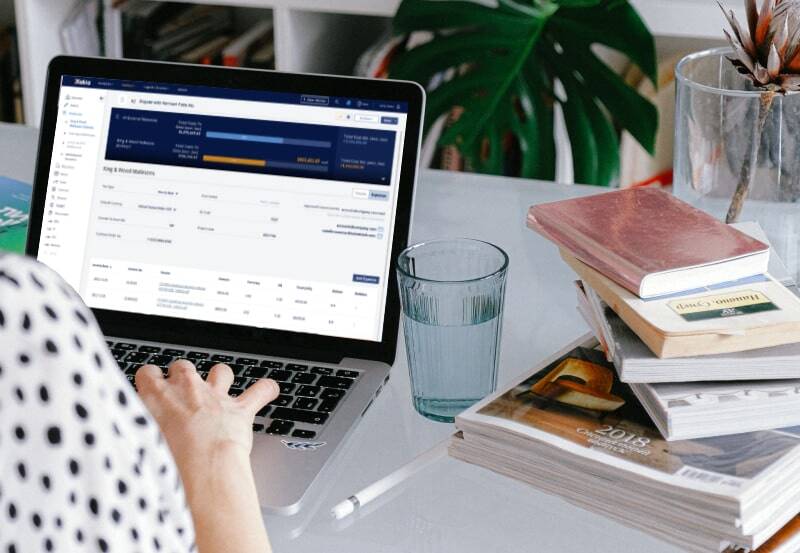 Manage legal spend and external resources without the stress
Xakia Connect for external resources
External resources will enjoy access to 'Xakia Connect'. This portal allows external resources to:
Receive legal work invitations from clients using Xakia
View selected information about the legal matter with the ability to add your own notes and annotations
Upload and manage invoices, in draft and final
Engage in discussions with your clients
Manage user access
Confirm compliance with client billing guidelines
Bonus - no hidden costs/charges:
For your external counsel to use or get added to Xakia Connect
For you, when you surpass an arbitrary external counsel spend - just one transparent subscription fee that is not dependent on your outside counsel spend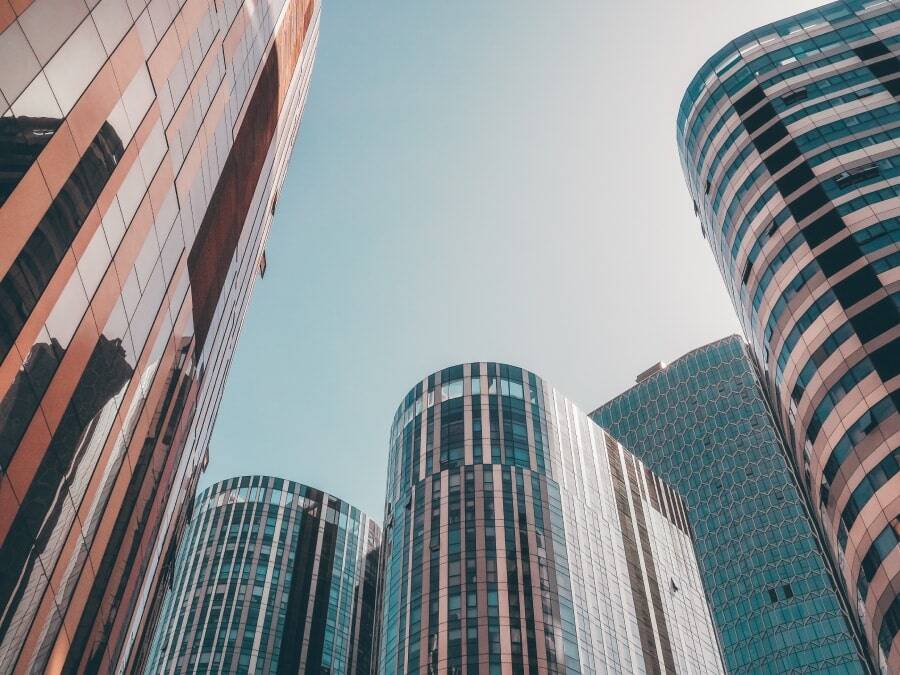 "In a rapidly changing environment, adopting a simple, easy to implement and innovative matter management system such as Xakia was a top priority for us."

Sawako Ohgi
General Manager, Strategic Legal Unit, Legal Group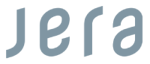 Take control of your legal spend with Xakia
Explore our legal spend and budget management resources
Some commonly asked questions about our legal spend management system
Some of the customers who trust and love Xakia