Modern Matter Management for Corporate Legal Departments
If you're struggling with spreadsheets (or still frustrated by file folders), there is a better way. Learn how a modern matter management system can help your in-house legal team keep track of all your legal matters, collaborate with your colleagues and communicate with internal clients without the stress.
Let's get started now.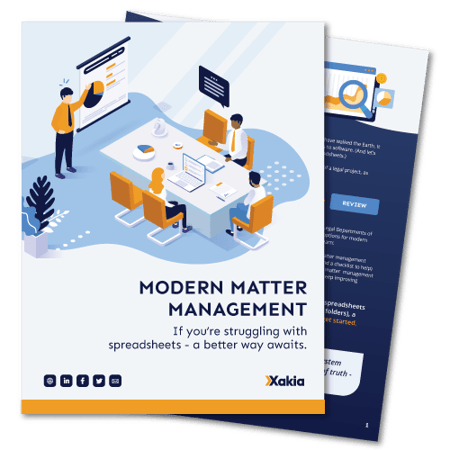 Download the guide
If you're still struggling with spreadsheets, now is the time to upgrade to a modern matter management solution.
A better way awaits - download our eBook now to learn more.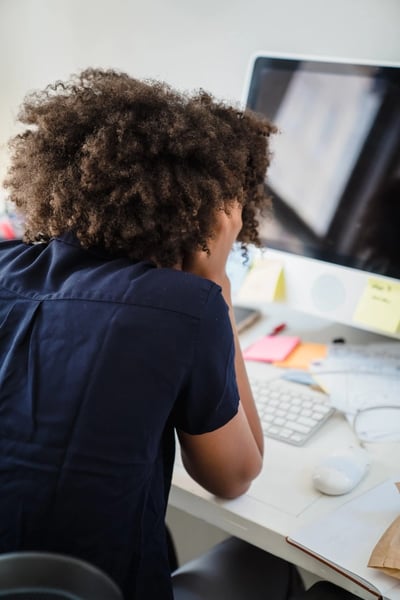 Is it time for a modern matter management solution?
There can be many signs that indicate it's time for your in-house Legal Department to upgrade to a modern cloud based legal matter management software.
Some common indicators include:
You aren't sure who's doing what
You get anxious for meetings with the C-suite
You are over budget. Again
You use a lot of different legal software but it's not making anything easier
Your legal team is burnt-out and so are you
Your list of legal matters lie in various places, including but not limited to legal pads, spreadsheets, email folders
Your Legal Department is drowning in work – and so much of it seems repetitive
You don't have access to real-time data, so you struggle to spot trends, identify business problems or make predictions about your legal operations
You're not sure if the C-suite understands your value
But what is modern matter management?
"Matter management," has undertaken a slow evolution, from parchment to file folders to spreadsheets to software. (And let's be honest, there are still plenty of legal teams getting by on file folders and spreadsheets.)
If traditional matter management resembled a conveyer belt, modern matter management is an ecosystem, tying together the steps in a project's lifecycle with key information and communication.
Matter management manages all aspects of a legal matter. A modern matter management software can provide an in-house legal department with a single source of truth for all legal matters.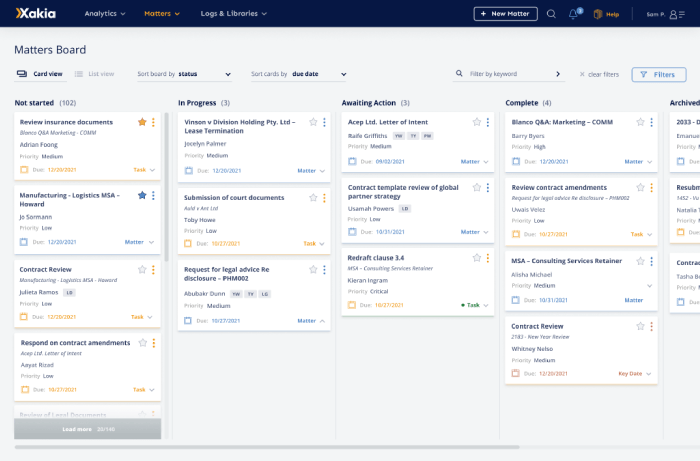 Modern matter management refers to a dynamic system that centralizes information into one single source of truth - and one that is constantly learning.
Get started with modern matter management now
Our modern matter management guide is designed to help in-house Legal Departments of all sizes understand their options and find a more efficient and productive way to work.
What you'll learn from the Modern matter management eBook
We'll show you how you can start on your matter management journey, with a focus on:
The signs you need a modern matter management solution
Key features to evaluate (and a checklist to help)
How to implement modern matter management
How to evaluate ROI on modern legal matter management – and keep improving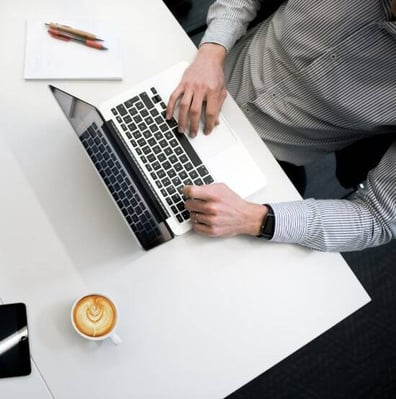 Moving forward with a modern matter management solution
Use our sample project implementation plan to help you get started
Every organization is different, but our template plan provides some guidance for the four stages needed to effectively introduce modern matter management.

Selection

Procurement

On-boarding
Mastery
As you evaluate potential matter management solutions, don't forget that modern matter management isn't just software: you need to ensure your vendor can be a true partner to your Legal Department throughout the project implementation process and long after.
Modern matter management gives you flexibility and scalability, utilizing the strengths of the latest cloud-based legal software. By selecting a vendor who is continuously developing to match current software capabilities, you can ensure that your team - and your organization - have the opportunity to maximize efficiency, without compromising on quality.
Download the eBook now to get started!
Modern matter management for in-house legal departments
Transform your legal team's service, performance, results and morale
This eBook contains a list of signs your in-housel Legal Department is ready for modern matter management. It also includes checklists and project plan templates to help you to assess your needs, evaluate your legal operations software options and craft successful implementation plans.
A modern matter management software can help your manage your legal workflows and collaborate with your team on matters more efficiently.
Complete the form and download the guide now to get started.
Ready to take Xakia's matter management software for a test drive?